Electrostatic Disinfection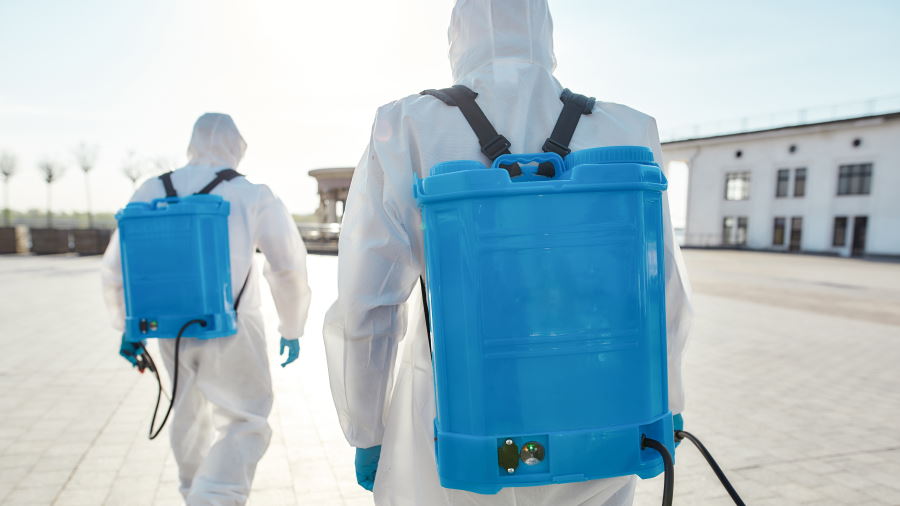 Traditional dry dusting and cleaning methods work for surface cleaning but won't get your place of business fully sanitized and thoroughly disinfected. At Purity 4, Inc, we specialize in Electrostatic Spray technology which provides the most complete disinfecting coverage possible. Using a special sprayer, a disinfection solution is sprayed evenly and thoroughly covering even the hardest to reach places. Purity 4, Inc technicians offer electrostatic disinfection for commercial properties including offices, educational facilities, medical facilities, government buildings, banks, and so many more.
---
Call for a FREE Quote
---
What Is Electrostatic Disinfection?
Electrostatic disinfection is spray technology that provides the most complete disinfecting coverage possible. Using a special sprayer, the disinfectant solution is able to cover every nook and cranny to ensure the most thorough sanitization coverage. An electrode inside the sprayer nozzle gives the disinfectant solution and air an electric charge. Once charged, the disinfectant solution is sprayed onto surfaces, providing the most complete disinfection to your business. Germs, pathogens, and diseases are effectively killed and will no longer live on surfaces. Though electrostatic disinfection seems complex, it is the simplest, quickest way to completely disinfect businesses throughout the area. For highly effective disinfection, call Purity 4, Inc for electrostatic disinfection services.
Benefits of Electrostatic Disinfection for Businesses
Did you know 67% of consumers won't use a business if it doesn't take health and safety measures? Now is the time to hire Purity 4, Inc for electrostatic disinfection. With so many benefits, it's a no-brainer for business owners to invest in.
Just some benefits of electrostatic disinfection include:
Compared to conventional methods, electrostatic disinfection takes 50% less time to thoroughly disinfect hard-to-reach places.
Infection control is greatly improved and the spread of viruses (such as COVID-19, MRSA, HIV, and more) are greatly reduced.
Disinfecting via electrostatic technology allows for more control of where the disinfectant is going, providing the most thorough coverage.
Workplace illnesses are decreased and the liability of someone getting sick at your facility is decreased.
Call Purity 4, Inc for Disinfection Services
For the most effective disinfection services for your business or facility, Purity 4, Inc provides electrostatic disinfection with ease. We provide electrostatic disinfection services for a wide range of commercial businesses, such as:
Corporate facilities
Medical and healthcare facilities
Schools and educational facilities
Large and small office spaces
Commercial kitchens
Churches and places of worship
Industrial facilities
And more, just call (404) 341-9669 today
---
Call for Fast FREE Quote
---